ABA team
Mr. Yossi De-Levie

Founder & Chairman of the Board.
Yossi De Levie is an inventor, entrepreneur and director, with over 35 years of experience in company management, product development and manufacturing. He is the founder and former owner of Games & Sports Ltd., a leading Israeli and European manufacturer of playground equipment. With over 300 successful products, Games & Sports was acquired by Gaon- Holdings in 2002.
Mr. De Levie also established "Tynat Hydro Industries" ten years ago together with Industrialist Stef Wertheimer (a leading industrialist and founder of Iscar, and entrepreneur of a number of industrial parks in Israel) and inventor Ehud Nagler, and later the Zvi Yemini group. Tynat Hydro Industries successfully developed a unique technology for water powered propulsion. Before founding Microdel, Mr. De Levie voluntarily managed the Erez Industrial Area.
Liron is an accomplished manager and owner of businesses in a variety of sectors,ranging from commodities, operations, real estate, service and more.
Liron brings to ABA technical background, managerial experience, and understanding of businesses both international and domestic, a multi discipline knowledge, and passion for details, service and more.
Liron possess networking skills, building fruitful partnerships with hundreds of clients and delivering bottom line growth. His inspiring and motivational style management along with first-rate interpersonal skills allows him to develop the ABA vision, into a reality.
Mr. Gabi Wolkinson

Financial Manager
Gabi holds a BA and MBA in Finance and is an experienced business consultant and finance expert in government, industrial and small business sectors.
Gabi 's well rounded background in management in the Ministry of Economy and also in the private business sector, covers capital raising and investments, operations and business development. Through knowledge, experience and detailed planning, Gabi brings his own energetic, hands-on approach and excellent analytical abilities to every project embarked upon.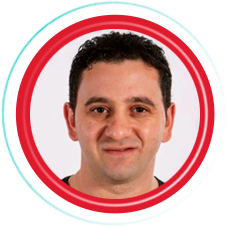 Michael is a mechanical engineer with proven experience in mechanical design, electronic packaging, mechanisms, metalworking and plastics. Michael holds M.Sc in mechanical engineering, specializing in heat transition and energy from Tel Aviv University.
Michael also holds B.Sc in mechanical engineering, specializing in heat transfer from Afeka College of Engineering. Experienced in managing a team of engineers and technicians, expert on variable CAD and FEA software. As ABA's Mechanical engineer - Michael design small/large scale precision mechanisms included powered mechanisms.